[ 3 Oct - 22 November 2014 ]
LOCUS: Upcoming Iranian Artists Abroad
The invitation for this exhibition was made by Iranian graphic designer and art critic Reza Abedini, 2006 Principal Prince Claus Laureate
The exhibition LOCUS, Upcoming Iranian Artists Abroad, will be opened on Friday 3 October 2014 by Joobin Bekhrad, founder and editor of the online magazine REORIENT– Middle Eastern Arts and Culture Magazine (www.reorientmag.com). After the official opening there will also be a TVDome-performance by Ehsan Fardjadniya / Pirate Cinema
---
---
GEMAK developed the exhibition together with visual artist and upcoming curator, Pendar Nabipour (Teheran, 1985). Locus focuses on artists of the Iranian post-revolution baby-boom generation (2/3 of the Iranian population) and the impact of 'locus' (place) on their artistic practise.
Pendar Nabipour: "While the Iranian art scene has been seeking more and more interactions with the global art scene during the recent decade, many Iranian artists have left home to collect experiences outside of the local boundaries. This situation provides a good opportunity for a two way dialogue between the expat artist and the hosting country, and also a chance for the Iranian artists to narrate their stories, exploring new territory in new ways."
Artists: Siamak Anvari, Ehsan Behmanesh, Mahmoud Bakhshi, Ehsan Fardjadniya / Pirate Cinema (with special thanks to: Philip Gladek, Martin Boverhof & Bas Klompmaker), Farhad Fazouni, Pendar Nabipour, Arefeh Riahi, Celia Eslamieh Shomal, Amir Tirandaz, Hamed Yousefi, Joubin Zargarbashi, Mehregan Kazemi, Reza Abedini (graphic design)
---
OPENING GUEST : JOOBIN BEKHRAD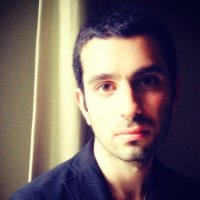 Writer, critic and curator Joobin Bekhrad (Toronto – Canada) is the founder and editor of REORIENT (www.reorientmag.com), an online magazine celebrating contemporary Middle Eastern arts and culture. Founded in 2012 REORIENT is a non-religious, non-political, non-partisan, and non-ideological entity, made possible by the efforts of contributors around the world.
At the opening Joobin Bekhrad will explain about his initiative and will give his view on the LOCUS-exhibition. He will also read out loud one of his own short stories addressing his own Iranian/Persian background and what it means to be in-between places and cultures.
Joobin is also co-founder of artclvb, an online platform for contemporary Middle Eastern art and he is the author of the new translation of Omar Khayyam's poems from Persian into English.
---
TVDOME-OPENING PERFORMANCE BY EHSAN FARDJADNIYA / PIRATE CINEMA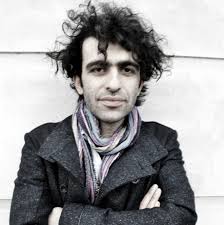 After the official opening there will also be a TVDome-performance by Ehsan Fardjadniya / Pirate Cinema. During the video mixing performances, the TVDome will be a political remix arena where you can experience the encompassing power of media or re-learn how to lie with editing. To participate in the performances, you can bring your own video's on USB-stick to be used on the TV dome and ask questions about the technique used.
Further TVDome Performances (appr. 2 hours) are planned during the exhibition-period: Friday 31st October and 14th November, and on the final day of the exhibition, Saturday 22nd of November 2014.
Back to top